Conscious Capitalism vs. Corporate Social Responsibility
Conscious capitalism differs from the traditional understanding of corporate social responsibility (CSR). Moving beyond implementing a local community program or creating a company foundation, a conscious business focuses on an ongoing process of self-awareness. The term "conscious business" implies that a business will seek to be aware of its impact on the world in various spheres, including social and environmental, and continues this inquiry over time. This includes its impact on a human's inner and outer world as well as environmental well-being. In addition, a conscious business considers short-term and long-term effects of its actions or inactions.
Being conscious is a dynamic state. As such, a conscious business evolves in the ways in which it benefits the world. Therefore, though conscious businesses will be socially responsible, the term "conscious business" proposes larger connotations for the businesses' actions than does social responsibility. Below is a table comparing conscious capitalism and CSR: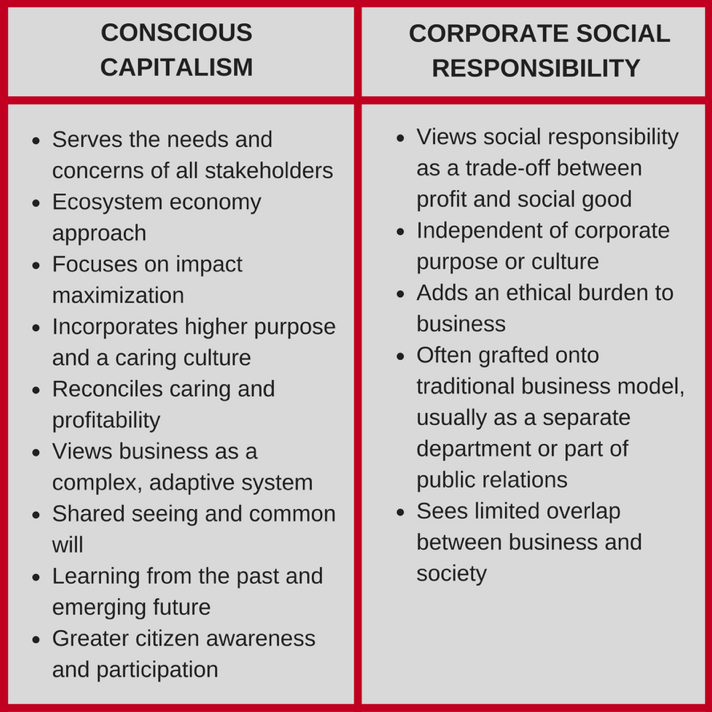 The distinctive contribution of conscious capitalism is that it is a more inclusive and holistic approach to understanding the complex relationship between business and society. It differs from other movements because it is rooted in an evolutionary change–the shift to greater levels of consciousness.
Next Page: Conclusion